Downloads
Common turbo failures such as overspeeding can cause severe fatigue to the shaft and wheel. Signs of fatigue include partial loss of blades caused by the constant flexing of blades beyond the designed parameters. Fatigue is a mode of failure not the cause.
Traditionally, a shaft and wheel has an open back with a slender or straight shaft. To strengthen the turbine wheel, Melett has developed a full back shaft and wheel solution that reduces the risk of fatigue on the inducer diameter.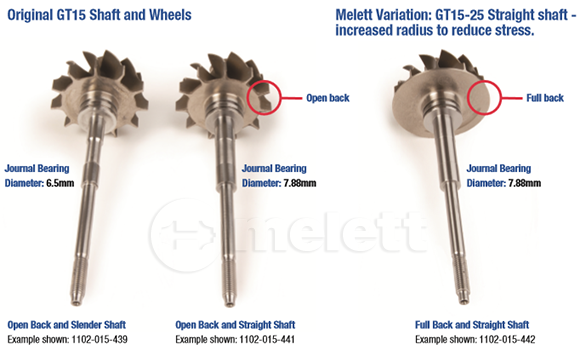 Why two different types? Early turbochargers incorporated a slender shaft in their design. This shaft was perceived to be lighter and provide less resistance, increasing performance. However, with advancements in turbocharger technology, a straight shaft was developed which provides extra strength and rigidity, and in theory makes the turbocharger easier to balance.