Melett is a UK company built on strong engineering principles. As a trade only provider, Melett supplies precision engineered turbochargers, turbocharger parts, and turbo repair kits as well as complete VSR balanced CHRA / Core Assemblies to the professional turbo repair industry.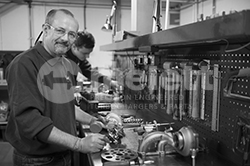 In-house team of highly qualified mechanical engineers
With an in-house team of highly qualified mechanical engineers, our comprehensive range allows the reconditioning, remanufacturing and the repair of turbocharger models originally manufactured by; Garrett, Holset (Cummins Turbo Technologies), Borg Warner (Schwitzer and 3K), MHI (Mitsubishi), Komatsu, Toyota, IHI, Hitachi, Continental and Bosch-Mahle (BMTS).
Based in the UK, Melett is recognised as the quality, reliable supply partner by turbocharger repairers ranging from small turbo workshops through to volume turbo remanufacturing facilities. Melett is also an approved supplier to several vehicle manufacturers for their own aftermarket remanufactured turbo programs.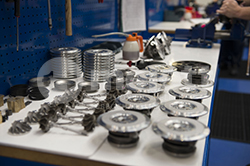 Extensive Range of Turbochargers and Turbo Parts
Using our in-house team of qualified engineers, our continuously growing range of products covers many applications, from BorgWarner KP/BV and Garrett VNT passenger car turbos through to Komatsu KTR off-highway turbos. The range also includes everything from individual piece parts, upgrade parts and repair kits through to an extensive range of major parts including; turbine wheels, compressor wheels, bearing housings, seal plates, heat shields and variable nozzle ring assemblies, as well as a large selection of oversized journal bearings and piston rings.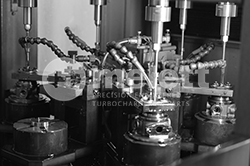 Growing range
Melett CHRA / Core Assemblies are assembled and VSR balanced in Melett's fully equipped UK Core Production Facility, incorporating, where possible, improvements in the original design and upgraded parts. The growing range covers many popular turbos including; Garrett GT / VNT, Borg Warner K03 / K04 and KP/BV, MHI TD02 / TD03 TF035 / TD04 and Toyota CT26.
Furthermore, Melett Turbochargers offer turbo repairers a premium brand alternative to an OEM turbo, where a repair solution is not possible. All Melett turbochargers are built, balanced and flow tested in the UK to the strictest quality standards to ensure OE performance is maintained during operation.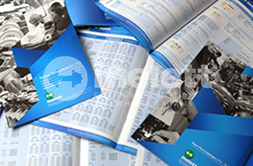 Melett Comprehensive Turbocharger Database
In addition to precision engineered turbochargers and parts, Melett offers an extensive range of catalogues providing customers with exploded views of turbos, detailed dimensions of major turbo parts and a breakdown of popular repair kits. Also, the Melett website offers one of the most comprehensive turbocharger databases in the world, giving customers access to over 56,000 detailed turbo buildsheets to help find the required parts to offer a high quality repair solution.
Melett's quality turbochargers and parts are backed by a UK based multilingual customer support team and are supplied from stock at a price to economically allow a quality turbo repair.
Please Note: All genuine Melett parts are packaged and supplied from our custom built UK based distribution facility. All Melett Turbochargers and Melett CHRA are produced at our UK based production facility.