Heat Shields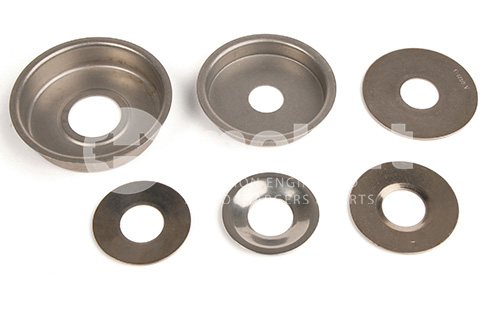 Heat shields are designed to shield the piston ring and the bearing housing from the hot gases, and stop the exhaust gas hitting the piston ring:
Quality requirements of a heat shield vary dramatically from one turbo to another, based upon the temperature of the application and design of the heat shield;
In some older applications, a heat shield was generally a pressed piece of stainless steel, where the material quality and dimensional accuracy was not high, relative to other parts to the turbo;
In the more recent turbo developments for VNT/VGT's, the dimensional accuracy has increased. As a result, the temperature which the components are subjected to, is also much higher . Some modern heat shields are produced from high temperature material similar to those used in turbine wheels;
The correct use of material is essential or the part will fail. If the materials used does not have the correct heat resistant proprieties, the component may relax, hit the back of the shaft & wheel and subsequently smash to pieces;
Melett heat shields are mainly produced to go in Melett CHRA / cores, however they are also available as a replaceable service item.
Search for our Heat Shields here.
For further information contact Melett via [email protected] or to order [email protected]  T: 01226 320939