CHRA / Core Assemblies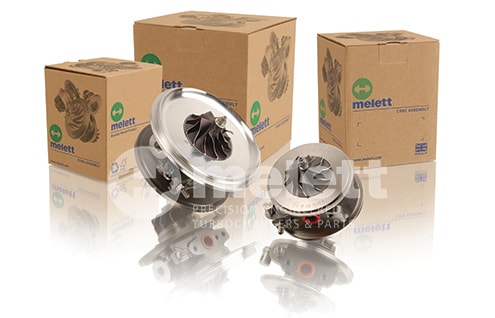 Our growing range of replacement CHRA / Core Assemblies are all assembled and VSR balanced in our in-house fully equipped UK Core Production Facility.
Why choose Melett CHRA / Core Assemblies?
The extensive range covers many popular turbo models, including; Garrett GT/VNT, Borg Warner K03/4 & KP/BV, MHI TD02/3 TF035/ TD04, Toyota CT26 and IHI RHF4/5;
ALL Melett CHRA / Core Assemblies are made in our UK facility, from Melett parts only. Where possible we incorporate improvements to the original OE design and use upgraded parts. Therefore, producing a better, more improved part than the OEs;
Batch control – we can provide complete traceability of every individual component used in our Cores. Each Core Assembly is etched with a unique serial number, ensuring all genuine Melett products are traceable to the UK;
At Melett, we adhere to strict quality control processes incorporating the highest level of inspection throughout every stage of production;
Also, significant investment in the latest technology and equipment, and highly skilled technicians. So allowing Melett to maintain a tight control over all stages of core production.
Search for our CHRA / Core Assemblies here.
For further information contact Melett via [email protected] or to order [email protected]  T: 01226 320939