Welcome to the Melett Online Catalogue where you can search, compare and order Melett parts.
Start by selecting a Manufacturer OR Component type.
Parts Catalogue
This search function is designed to help you find the turbo part number when only the vehicle application is known. Please Note: Many different turbo models are fitted to similar applications, therefore care should be taken when using this method. The only way to be 100% accurate is to get the turbo number from the actual turbo.
| Melett Part No. | Actuator Type | Melett Gearbox No. | Melett Actuator Repair Kit No. | G no. | Description |
| --- | --- | --- | --- | --- | --- |
| Melett Part No. | Actuator Type | Melett Gearbox No. | Melett Actuator Repair Kit No. | G no. | Description |
| Turbo Model | Melett Part No. | Actuator Type | Description |
| --- | --- | --- | --- |
| Turbo Model | Melett Part No. | Actuator Type | Description |
| Turbo Model | Melett Part No. | Actuator Type | Melett Position Sensor | Description |
| --- | --- | --- | --- | --- |
| Turbo Model | Melett Part No. | Actuator Type | Melett Position Sensor | Description |
| Turbo Model | Melett Part No. | Product Type | Description |
| --- | --- | --- | --- |
| Turbo Model | Melett Part No. | Product Type | Description |
| Turbo OE No. | Melett Part No. | A Dia | B Dia | C Dia | D Dia | E Dia | F Oil Inlet | G Oil Inlet | H Water | VNT Lever Position |
| --- | --- | --- | --- | --- | --- | --- | --- | --- | --- | --- |
| Turbo OE No. | Melett Part No. | A Dia | B Dia | C Dia | D Dia | E Dia | F Oil Inlet | G Oil Inlet | H Water | VNT Lever Position |
| Turbo Model | Melett Part No. | Description |
| --- | --- | --- |
| Turbo Model | Melett Part No. | Description |
| Turbo Model | Turbo No. | Melett Part No. | OE No. |
| --- | --- | --- | --- |
| Turbo Model | Turbo No. | Melett Part No. | OE No. |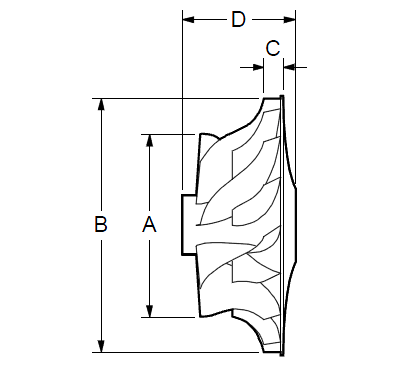 | Turbo OE No. | Melett Part No. | Inducer Dia A | Exducer Dia B | Tip Height C | Total Height D | Blades | Flatback Superback | Shaft Bore |
| --- | --- | --- | --- | --- | --- | --- | --- | --- |
| Turbo OE No. | Melett Part No. | Inducer Dia A | Exducer Dia B | Tip Height C | Total Height D | Blades | Flatback Superback | Shaft Bore |
| OE No. | Melett Part No. | Turbo No. | Turbo Model |
| --- | --- | --- | --- |
| OE No. | Melett Part No. | Turbo No. | Turbo Model |
| Turbo OE No. | Make | Model | Engine Size |
| --- | --- | --- | --- |
| Turbo OE No. | Make | Model | Engine Size |
| Turbo Model | Melett Part No. | Outer Dia | Inner Dia | Section Type | Material | Thickness | Site |
| --- | --- | --- | --- | --- | --- | --- | --- |
| Turbo Model | Melett Part No. | Outer Dia | Inner Dia | Section Type | Material | Thickness | Site |
| Turbo OE No. | Make | Model | Engine Size |
| --- | --- | --- | --- |
| Turbo OE No. | Make | Model | Engine Size |
| Turbo Model | Turbo OE No. | Melett Part No. | Primary Outside Dia | Bore | Secondary Outside Dia | Overall Height |
| --- | --- | --- | --- | --- | --- | --- |
| Turbo Model | Turbo OE No. | Melett Part No. | Primary Outside Dia | Bore | Secondary Outside Dia | Overall Height |
| Turbo Model | Melett Part No. | Description | View in repair kit |
| --- | --- | --- | --- |
| Turbo Model | Melett Part No. | Description | View in repair kit |
| Turbo Model | Turbo OE No. | Melett Part No. | No. Vanes | Dia A | Dia B | Dia C | Depth D | Depth E | Dia F | Height G |
| --- | --- | --- | --- | --- | --- | --- | --- | --- | --- | --- |
| Turbo Model | Turbo OE No. | Melett Part No. | No. Vanes | Dia A | Dia B | Dia C | Depth D | Depth E | Dia F | Height G |
| Turbo Model | Melett Part No. | Dia A Bearing Housing | Dia B Nozzle Assy | Dia C Turbine Housing | Depth D Shaft & Wheel | Gas seal ring part number |
| --- | --- | --- | --- | --- | --- | --- |
| Turbo Model | Melett Part No. | Dia A Bearing Housing | Dia B Nozzle Assy | Dia C Turbine Housing | Depth D Shaft & Wheel | Gas seal ring part number |
| Turbo Model | OE No. | Melett Part No. | No. Vanes | Dia A | Dia B | Dia C | Depth D | Depth E | Dia F | Height G |
| --- | --- | --- | --- | --- | --- | --- | --- | --- | --- | --- |
| Turbo Model | OE No. | Melett Part No. | No. Vanes | Dia A | Dia B | Dia C | Depth D | Depth E | Dia F | Height G |
| Turbo Model | Melett Part No. | Dia A Bearing Housing | Dia B Nozzle Assy | Dia C Turbine Housing | Dia D Shaft & Wheel | Gas seal ring part number |
| --- | --- | --- | --- | --- | --- | --- |
| Turbo Model | Melett Part No. | Dia A Bearing Housing | Dia B Nozzle Assy | Dia C Turbine Housing | Dia D Shaft & Wheel | Gas seal ring part number |
| Turbo Model | Melett Part No. | Inner Diameter | Section | Description |
| --- | --- | --- | --- | --- |
| Turbo Model | Melett Part No. | Inner Diameter | Section | Description |
| Turbo OE No. | Make | Model | Engine Size | ID | Melett Part No. |
| --- | --- | --- | --- | --- | --- |
| Turbo OE No. | Make | Model | Engine Size | ID | Melett Part No. |
| Turbo Model | Melett Part No. | Description | View in repair kit |
| --- | --- | --- | --- |
| Turbo Model | Melett Part No. | Description | View in repair kit |
| Turbo Model | Melett Part No. | Type | Situation |
| --- | --- | --- | --- |
| Turbo Model | Melett Part No. | Type | Situation |
| Turbo Model | Melett Part No. | Thread Dia | Hand |
| --- | --- | --- | --- |
| Turbo Model | Melett Part No. | Thread Dia | Hand |
| Turbo Model | Turbo No. | Melett Part No. | A Dia | B Dia | C Dia | D Depth | E Dia | Compressor Wheel Type | Insert/Seal plate |
| --- | --- | --- | --- | --- | --- | --- | --- | --- | --- |
| Turbo Model | Turbo No. | Melett Part No. | A Dia | B Dia | C Dia | D Depth | E Dia | Compressor Wheel Type | Insert/Seal plate |
| Turbo Model | OE No. | Melett Part No. | A Dia | B Dia | C Dia | D Depth | E Dia | Compressor Wheel Type | Insert/Seal plate |
| --- | --- | --- | --- | --- | --- | --- | --- | --- | --- |
| Turbo Model | OE No. | Melett Part No. | A Dia | B Dia | C Dia | D Depth | E Dia | Compressor Wheel Type | Insert/Seal plate |
| Turbo OE No. | Melett Part No. | A | B | C | D | E | F | G | No. of Blades | Rotation | Type of Shaft | Piston Ring | Back Face Type |
| --- | --- | --- | --- | --- | --- | --- | --- | --- | --- | --- | --- | --- | --- |
| Turbo OE No. | Melett Part No. | A | B | C | D | E | F | G | No. of Blades | Rotation | Type of Shaft | Piston Ring | Back Face Type |
| Turbo Model | Melett Part No. | Description | OD | View in repair kit |
| --- | --- | --- | --- | --- |
| Turbo Model | Melett Part No. | Description | OD | View in repair kit |
| Turbo Model | Turbo No. | Melett Part No. | OE No. |
| --- | --- | --- | --- |
| Turbo Model | Turbo No. | Melett Part No. | OE No. |
| Turbo Model | Melett Part No. | OE Turbo No. | Service No. |
| --- | --- | --- | --- |
| Turbo Model | Melett Part No. | OE Turbo No. | Service No. |